"I'm active in theatre field as a director/actor/playwright for theatre and performances as well as a youth/social worker; I'm involved in creating social application of theatre work, for example working on social themes or specific historical facts representing them through performances.
Another way of working for me is collecting the personal tellings of people in a community or the legends of a specific geographical area and giving them life through theatre actions.
With my colleagues in these last three years we have been elaborating the Ecotheatre project, preparing performances for open air urban spaces or parks and places in Nature, basing our performances on archetypes, masks from the traditions, researches on ancient rural and folk rites.
I've been practicing various forms of theatre and I've had the luck in these fifteen years to teach theatre in schools for children, adolescents, adults, actors.
I met the first time a Drums for Peace artist team in Chiavenna in 2015 for an international youth exchange, where I conducted a theatre workshop: it was called "Right Art", the aim were the Civil Rights. I really appreciated then the spirit of an international youth exchange and that of the Drums for Peace team: knowing each other's differences through Arts. Then in 2016 I had two others Erasmus Plus experiences: I accompanied a class of the school where I was teaching in the Czech Republic; lately I took part in another international youth exchange in Chiavenna, July 2016: it was called "Echoes from the valley", and we worked over tellings and legends of the villages around the place we were staying in and we performed in an open air space.
About my training I'd just would like to mention that after my studies with the Italian Playback Theatre School (SIPT) and thanks to the six years' experience with Compagnia Impronte, I "play" now with the Practice degree in Playback theatre; I'm using P.T. as a method almost in every situation of my social job because as a useful instrument."
Drums for Peace related projects:
Workshop leader at youth exchanges:
2015, "Right Art" in Chiavenna, Italy;
About the workshop(s):
Theatre for me is Team Work, a meeting of different people as well as different languages and diverse personal abilities that can create unexpected realizations.
Movements, voice, scenarios, group creation, words > everything plays together in coordination to recreate a clear picture of stories/ideas/suggestions.
We could use drama, physical theatre, street theatre, open air actions, depending on the needs of that particular community we meet in that moment. Through our performing we could offer the power of people gathering from all around Europe, working together.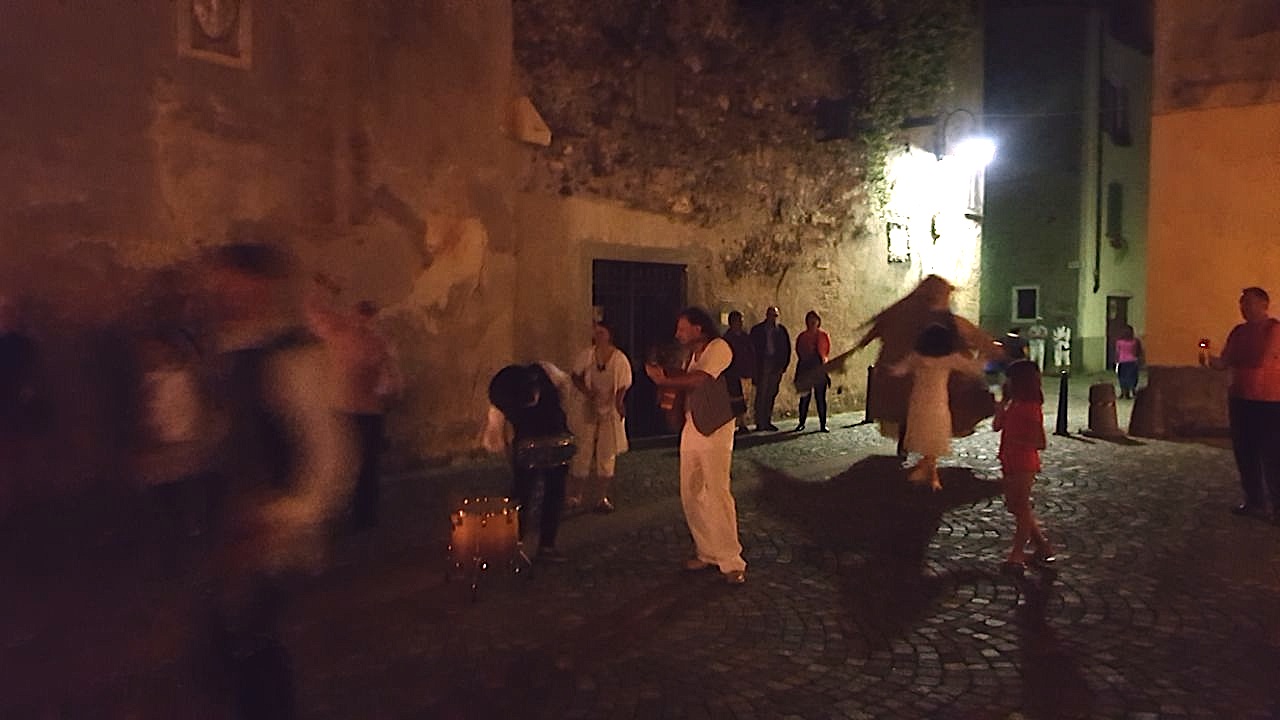 Tirano Clair Obscur 2017
Contact information (links to Davide's recent theatre projects):
https://biopratiche.wordpress.com/ecotheatre/
https://biopratiche.wordpress.com/ecotheatre/trincee/
https://facebook.com/ecotheatres/